Rob Elliott has featured as a meteorite expert and contributor in hundreds of newspapers & magazines around the World, and appeared on dozens of radio and televison programmes for broadcasters RTE, Canadian Broadcasting Corporation, Singapore, Russian, American CBS and Australian television, ITV, C4, BBC, Sky and more.
Michael Jackson, Brian May, Uri Geller, Cornelia Parker, Oscar winners, Grammy award winners, television personalities and many stars of stage and screen have all acquired meteorites from the Robert Elliott Meteorite Collection - and more than a few major institutions & museums of natural history around the world too!
Born in Essex in 1960, an early childhood fascination with science, astronomy, electricity and "generally blowing things up", led Rob to train as an electronics engineer at university in Kingston, England, and serve a full apprenticeship at a large engineering company based in Kent. With degrees in electronic engineering and electro-mechanical engineering, Rob spent the next few years relocating around the UK with his young family in tow, working on defence based projects for various big-name companies. During the 1980's, as one of the boffins working on Trident nuclear missile, Rob worked for a space and aeronautics company owned by billionaire aviator Howard Hughes, working in both Fife, Scotland and Los Angeles, California. But, then along came meteorites and all that rapidly changed.
"Many collectors' markets are driven by nerdy men sitting in sheds. I don't have a shed.......and even if I did, I'd keep my lawnmower in it".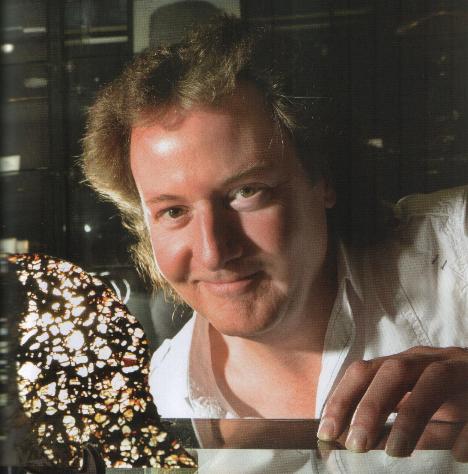 Me, thinking about all those years I wasted collecting stamps.
© Scottish Field magazine 2013

Strathmore meteorite mini-documenatry. A BBC crew filmed me for a piece for television and radio, to be aired at Christmas 2013/New Year.

The girls from STV filming a piece at Fernlea.



A BBC film crew invading my house and garden, filming my contribution to the current series of "The Antiques Road Trip".


"Antiques Road Trip" presenters Charlie Ross and Margie Cooper, plus a former Miss Scotland on the crew.


My Hawaiian hunting buddy Gregory Wilson and I, filming a tv show in Yorkshire, England.

TV crew filming a meteorite documentary in my showroom for CNBC.

On Channel 4's "Four Rooms" - I was the first guest on the first ever day of filming for the first episode of the first series. It was chaos!

Interview in the Hambleton strewnfield for BBC televison midday news.

Rob, featured in a meteorite cartoon in an Irish national newspaper.

BBC News 24.

Studio interview for BBC evening news.

The Hambleton meteorite on BBC's "Look North".

On Channel 4's "Richard and Judy" evening tv chat show.

On ITV's "The Hour" evening tv chat show.

BBC Television's "Inside Out" show. At home in the meteorite room.

BBC Television's "Stardate" show. Hunting the Barwell meteorite strewnfield with "Sky At Night" presenter, Lucie Green.

Another meteorite documentary.

TV crew setting up

Many celebs enjoy owning a meteorite - here I am with my friend Uri Geller in his English mansion house. He bent my car key.....didn't have a spare.....had to bend it back again!

Myself and my wife Irene were thrilled to be invited to the Natural History Museum, London to attend a special dinner as guests of the NHM's Dr.Monica Grady - the dinner was held in honour of second man to set foot on the Moon, Apollo 11's Buzz Aldrin. During the evening, we were lucky enough to spend about 15 minutes chatting with Buzz and his wife about his historical Moon landing. Pictured: Dr.Buzz Aldrin, Dr.Neil Chambers and Mrs.Aldrin.
<< Meteorites for Sale| Home | Next >>

Fernlea, The Wynd, Milton of Balgonie, Fife. KY7 6PY United Kingdom
Please - no requests to authenticate old rock and stone finds
I've heard the "My grandad saw it fall in a field and gave it to me!" story (and all variations) a zillion times
Telephone: 07880-888660
Email: fernlea4@aol.com
© Rob Elliott